Spinal Decompression in Gainesville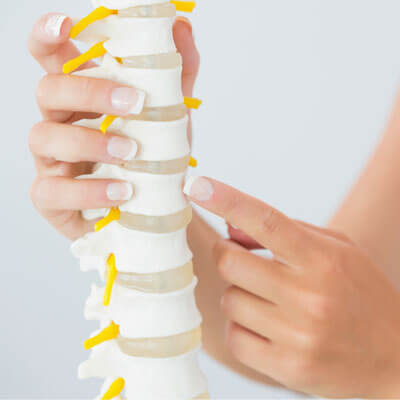 At KLS Chiropractic, our main goal is to support you on your journey to natural wellness. One of the ways we do that is by offering a variety of different modalities that can help you achieve your goals.
We're proud to offer gentle, focused spinal decompression therapy for that very reason. Spinal decompression is a scientifically-proven method for reducing back pain and restoring disc health without the need for drugs or surgery. Best of all, it's completely natural!
How Does Spinal Decompression Work?
Spinal decompression therapy involves laying on a table while your spine is gently stretched, then relaxed, over and over.
We use the Accu-SPINA® table, approved to deliver IDD Therapy® (Intervertebral Differential Dynamics) Disc Treatment. The Accu-SPINA table is the number one spinal decompression table in the world, and is on permanent exhibit at the International Museum of Surgical Science in Chicago.
"This machine is very smart-as it's pulling, if the tissue is resisting too much, it will not continue to pull. It backs off of the pull so it doesn't do any damage or harm to the person. When it's at its full pull, it pulses; that little pulsation helps retract or pull back in any herniated material and helps pump the disc up through the process of imbibition-the way a disc drinks or draws in fluid," says Dr. Lisa.
What to Expect
Each session is completely custom to your needs and problem areas. There is absolutely no pain involved with this therapy-in fact, many of our patients remark how relaxing and great it feels.
This modality isn't just about pain relief-it actually works to heal the issue that your body is experiencing.
Over time, the discs in our spine can become compressed, which causes them to lose the fluid-filled discs that cushion each one. When these discs are depleted, nerves can't flow freely, causing dysfunction.
Spinal decompression works to open the space between your vertebrae, (spinal bones), back up, creating a vacuum that brings the fluid back into the discs and improves function.
Spinal decompression therapy is ideal for patients of all walks of life, and can be particularly beneficial for those dealing with herniated discs, low back pain and neck problems.
A High Rate of Success
Spinal decompression has been widely studied by top institutions, including Harvard and the Mayo Clinic. We're happy to let patients know that more than 86% of people find success with decompression, which has long lasting benefits-sometimes even longer than spinal surgery. With decompression, most patients see improvement lasting 5 or more years-with back surgery, the improvements may only last 3.
One of Dr. Lisa's patients is a woman with a 3-millimeter extrusion. The disc herniated, and it pushed disc material out into the spinal canal. After the patient had IDD Therapy, when we did her next MRI, she had no extruded material. It had come back in, pumped the disc up, and decreased the stenosis in the spinal cord area.
Book Your Visit Today
Dr. Lisa has achieved National Non-Surgical Spinal Decompression Certification. She is also a member of the International Disc Education Association and a member of Disc Centers of America.
Learn more about a Spinal Decompression visit.
We'd love to speak with you about spinal decompression therapy and what it can do for your health. Get started today by contacting us for an appointment!
CONTACT US »

Spinal Decompression Gainesville, Oakwood, Lula and Flowery Branch GA | (770) 532-0488