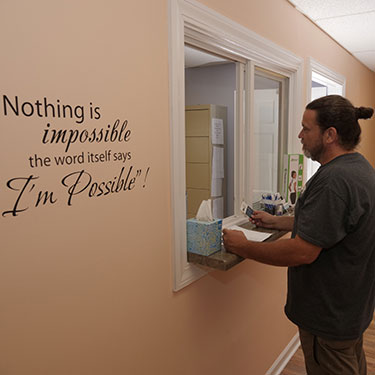 New Patients
We welcome you to visit our fun, vibrant Gainesville office dedicated to your and your family's best health. With colorfully painted walls, fun play areas for kids and upbeat music playing, you'll quickly know that you're not in a typical doctor's office!
Dr. Lisa is inspired to witness people change in ways they couldn't have imagined and hopes you and your family are next.
Your First Visit
Once you've completed your new patient paperwork, Dr. Lisa will greet you and make sure you're comfortable. You'll then be given a tour of our office, explaining what each room offers and how it can benefit your health. From our therapy rooms to our adjusting rooms, we'll help you unlock and unblock your nervous system so you can heal. Your first visit will include several parts:
Consultation. You'll meet with Dr. Lisa for your consultation to learn about your concerns and wellness goals. She'll find out what you're looking for and make sure that she's the right fit for you. "I'll let you know that right up front. If I don't think I can help you, I'll make sure I get you to somewhere that can," says Dr. Lisa.
She prides herself on being straightforward, honest and to the point. "I think that is one of the things that build trust with my patients," she adds.
Scans. Using state of the art equipment used by the Space Administration on the astronauts, Dr. Lisa will perform a Subluxation Station scan that is a thermal nerve scan, a Surface Electromyography (SEMG) scan and for adults, the Pulse Wave Profiler (PWP) scan.
Examination. Dr. Lisa will go through a physical examination to look at your range of motion and do muscle and reflex testing, an orthopedic analysis and more.
She will sit down and discuss the next step for care. In some cases, Dr. Lisa will request X-rays be taken. Then it's time to schedule your next visit to allow her to review all of your examinations and scans. Please expect this visit to last about one hour.
Your Second Visit
When you return, you'll go over Dr. Lisa's report of findings, and she'll talk to you about whether she can help you or not. With your best interest in mind, she'll tell you how she can help or refer you elsewhere, so you get the care you need.
Are you looking just to get out of pain or are you trying to resolve the issue, so it doesn't keep coming back? If you agree with her recommended course of action, you'll begin care.
Regular Visits
A typical routine visit will include you signing in, doing therapy (when appropriate), then being shown to an adjustment room. Dr. Lisa will come in and discuss your health and see how you've been since your last visit. You'll talk about progress or change in lifestyle and stress, so she understands your whole health. Next, she'll check you and adjust you appropriately.
Every chiropractic adjustment may be a little different as Dr. Lisa tailors your care to your body's needs each time you visit.
Patient Education Events
Dr. Lisa hosts new patient classes twice a month. Also, she'll hold different classes on relevant health topics like ear infections, geriatric health, stress management and more! One of her favorite classes is her Perfect Storm class, discussing all of the aspects of our life that come together and affect our lives.
Choosing Wellness
When you get a car, you take it in to be serviced every few thousand miles. It's the same when it comes to your health. All the workouts that we give our body deserve to be taken care of properly before you have issues; that's why we recommend visiting us regularly. We call this proactive care so you can stay well.
Take That First Step Today
Contact KLS Chiropractic today, if you're ready to get started and see how we can help. Please note that we are a cash practice. Dr. Lisa's rates are very affordable at just $40 a visit. That's generally what a co-pay is under insurance.
CONTACT US »

New Patients | (770) 532-0488